An easy and flexible vehicle tracking service that helps you to protect and monitor your vehicle. It makes your fleet & drivers safer, cheaper & more efficient to operate. Finder GPS is MTL's in-house product that is built with Python, and PostgreSQL (web). We have mobile apps for both iOS and Android platform build with React.
To provide a smooth and lag free user experience, our highly professional team is continuously working behind the scenario. To protect your family and vehicle from unwanted incidents, try Finder GPS.
A smart, task-based supply chain solution to help you manage your logistics, manufacturing and distribution business by automating all the dreary tasks. It is a SaaS tool that automates your supply chain operation for better outcomes and faster decision-making.
Designed to simplify your business operations
Our feature-packed app helps you manage your critical supply chain, logistics and distribution-related tasks smoothly while cutting extra costs in daily operations. 

The software is a SaaS-based platform done with Tornado and MongoDB. Mobile App is made by Android done with react.
Internally used for our office system.
One of the most prevalent and reliable online shops in Dhaka. Get fresh grocery items from the very authentic source directly to your house door with a few clicks. Without regular hustle, get all your daily necessities in one place. 
Quality groceries on time every time
Shodai tries to bring the premium quality items like meat, chicken, fish, vegetables, fruits and other food ingredients which customers can order online or by phone call. With the help of highly dedicated professionals, our operations are available 24/7. On-time delivery and quality helped us to build a reliable place in our customer's hearts.

Own software built by GraphQL, Django and PostgreSQL programming languages. Mobile App is built by Android done with React.

Was available in the market. Currently, it is paused temporarily.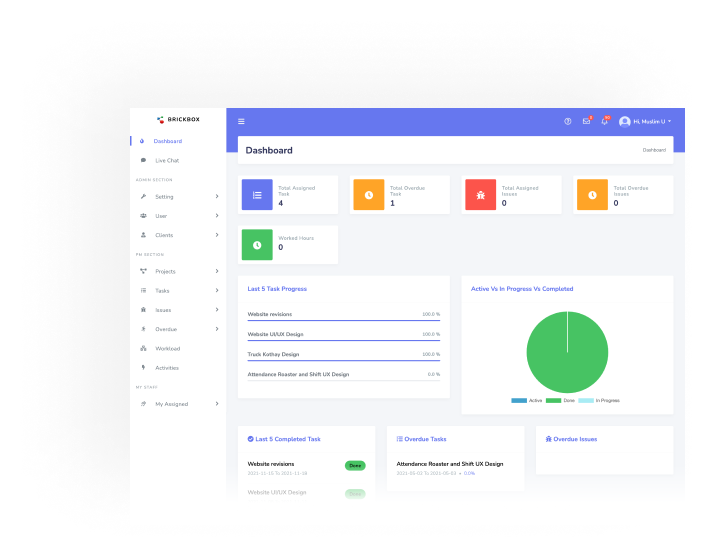 You are trying to manage your next big project or digitalizing task management for your team's daily business but you want to know who's doing what and when. This is exactly what our own made task management tool BrickBox provides. One user-friendly, clean dashboard to view all the tasks status, overdue, issues work hours and many more. 
It's time to get organised
Our task management tool provides an overview of work in progress that enables you to track from conception to completion. Get kanban-style project boards to digitalise workflows and gain a clear overview of task progress.

SaaS-based project management platform done with Laravel, and MySQL. Internal Brickbox services like in-house HR, Bill Management and Operations-related software are done with Laravel and MySQL.  

Used internally 
Own build map done with PHP and OpenSSL
HRP Integrator: Own build payroll management platform is done with Laravel, MySQL