We thrive to provide designs that suite your personality and communicate with your clients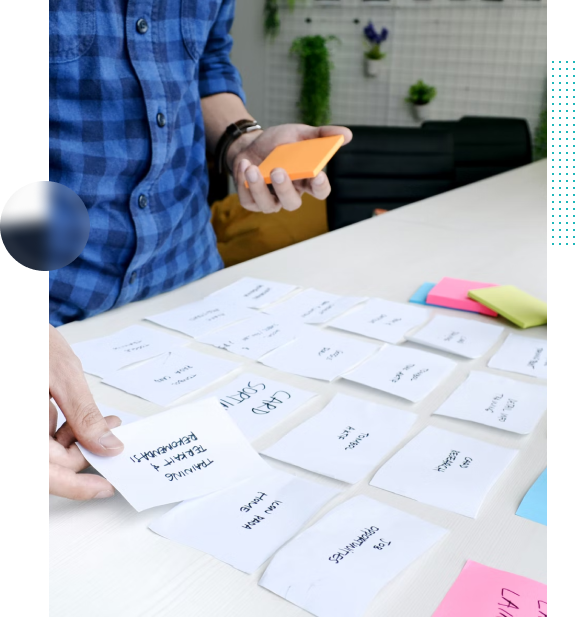 Creating Advanced User Experience For You
Our professional team can deliver lucrative UI/UX designs for increasing brand authenticity
At Monico Technologies, we have been providing leading UI/UX design service in Bangladesh that has created positive feedback, customer loyalty, business growth, and profitability. Our expert designers conduct design research as part of the procedure which makes us the best output deliverers. 
Besides, our team ensures the premium UI/UX design service maintains the quality and commitment throughout the development life-cycle and even after the deployment phase. We appreciate everyone; simply contact us and we will take care of the rest.


Storyboarding
User Research
UX Feedback
Cross-platform experiences design
UI and UX consulting
Information Architecture
Wireframes
Prototypes
Design quality control
Strategy
Our complete UX/UI design services deliver a strategy for growth for your business.
Layout Sketches
Our designers create a skeletal framework of products by visual guidelines to show a preview of how it looks.
Responsive Design
We make our design responsive by which users can easily respond through website.
Development
At MTL, our proficient UX/UI design experts ensure to solve any complex business difficulties by designing and developing innovative and dynamic user experiences.
Our Design Thinking Methods
So you have got the right components now you need proper direction. The team need to apply which is best methods available. A design process will enable the team to deliver the results. Establishing a design team with the right methods can improve the performance of your product sprint by sprint. That makes the difference between junior and senior guys. 
Senior people know these design & UX methods. They have real-life experience and know what to do on your specific project. Hiring a junior as a one-man show will probably do more harm than good. Hiring a senior guy with a junior to help might work.
At Monico Technologies Limited, we do numerous different things to help our designers to improve themselves. Our intense training program teaches these methods. 
Choose a Plan That's Right For You
With proper discussion about the project and payment, we can estimate the price and duration. We are always ready to deliver with top-notch quality.
StartUp
$700
5 Times Revision
40 Hours Delivery
Startup branding Design plan
User Story
Storyboarding
Wireframes
5 page web design
15 screen app design
Responsive design for any device
UI and UX consulting
Cross-platform experiences design
Additional Branding Packages with only $200
Brand Style Guides
Business Cards and Stationery
Presentation Design
Company Profile Design
Advance
$3000
8 Times Revision
175 Hours Delivery
30 screen app design
8-page web design
Responsive design for any device
Storyboarding
Cross-platform experiences design
UI and UX consulting
Information Architecture
Wireframes
Prototypes
Design quality control
User Testing
Design Improvise
Premium
$8000
15 Times Revision
2 Months Delivery
30 page web application design
Dashboard Design
User Research
Competitive analysis
Storyboarding
10 screens Mobile app
UX and UI design services
Cross-platform experiences design
UI and UX consulting
Information Architecture
Wireframes
Prototypes
User Testing
Design Improvise