We create incredible visuals, stunning visuals and impressive graphics to give your brand an edge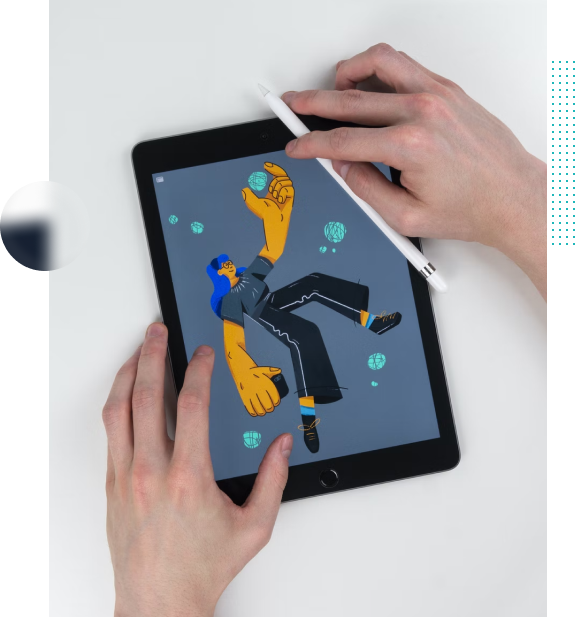 Do you need graphics design? We are here
Creating eye catchy designs for digital content on various platforms
As the world emerges digitally, graphics design has been the key to communicating with audiences. To convey your motto and work you need to show it through an attractive design which helps you to promote your products virtually.
We have the best designers among us who are ready to deliver designs which customers need most in this arena. We research and develop the brand guideline so that the brand can create a strong ground in the industry. Social media content, online GDN banners and plenty of things we can produce with topmost quality. 
Brand Style Guides
Business Cards and Stationery
Image Editing
Presentation Design
Infographic
Vector Pressing
Resume Design
Flyer Design
Brochure Design
Illustration Poster
Catalogue Design
Video Editing
Social Media Video
Symmetry and Balance
Implementing symmetrical designs which are perfectly balanced
Good Layout
Our expert designers prioritise the basic layout sketches so they execute it smoothly
Typography
Exploring and blending new typographic fonts which enhance the elegance of the design
Motion Graphic
Creating attractive motion graphic is our another strength, topmost VFX artist and motion video maker will deliver the best output
Finest Team
We have a perfectionist team who are working relentlessly.
In Time Delivery
We meet deadlines at the right time.
Reliability
We earn faith in our clients who give us inspiration
Choose a Plan That's Right For You
With proper discussion about the project and payment, we can estimate the price and duration. We are always ready to deliver with top-notch quality.
StartUp
$1500
15 Times Revision
1 Month Delivery
Brand Style Guides
Business Cards and Stationery
Image Editing
Presentation Design
Infographic
Vector Pressing
Company Profile Design
Agency website Design
WP Design
Advance
$3000
20 Times Revision
1 Month Delivery
Brand Style Guides
Business Cards and Stationery
Image Editing (5)
Presentation Design
Infographic
Vector Pressing
Company Profile Design
Flyer Design (5)
Brochure Design (5)
Illustration Poster (10)
Catalogue Design
Video Editing (5)
Social Media Video (5)
Agency website Design
WP Design
Premium
$8000
25 Times Revision
1 Month Delivery
Brand Style Guides
Business Cards and Stationery
Image Editing (10)
Presentation Design
Infographic
Vector Pressing
Company Profile Design
Flyer Design (10)
Brochure Design (5)
Illustration Poster (10)
Catalogue Design
Video Editing (10)
Social Media Video (10)
Motion Graphic (5)
Agency website Design
WP Design